Thanksgiving Banquet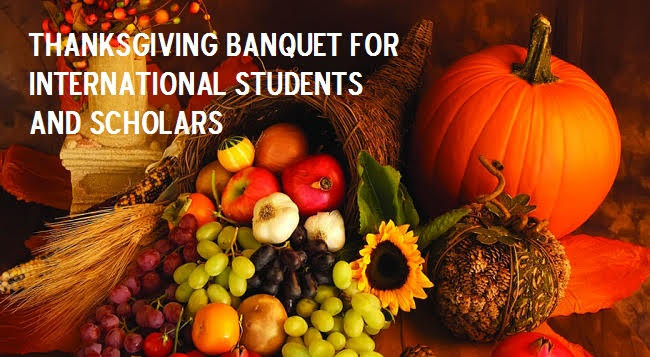 Location: Trinity Presbyterian Church
3101 Fontaine Ave. Extended
Directions from UVA: Go south on Jefferson Park Avenue,
but continue straight ahead at the light where JPA turns left.
Continue past Fontaine Research Park and the 29 bypass exits to the very end of the road.
If you need a ride, then meet at one of the following places to get a ride over to
Trinity Presbyterian Church (3101 Fontaine Ave. Extended)
1.    Eagles Landing Clubhouse at  5:00 PM
2.    Cavalier Crossing Clubhouse at 5:10 PM
3.    Aquatic Fitness Center (AFC) Parking Lot  at  5:00 PM
4.    University Heights bus-stop at  5:00 PM
5.    International Residential College (IRC) at the entrance at  5:00 PM
6.    If you will have trouble getting to one of the above locations and need a ride,
please reply to this email with detailed information
The event will be 5:30 - 7:45 PM.  There is no cost to you.
Come have a delicious home-cooked meal, learn about
the background and meaning of the American Thanksgiving holiday,
and enjoy a special live musical program.
Last Updated (Thursday, 14 November 2019 01:01)